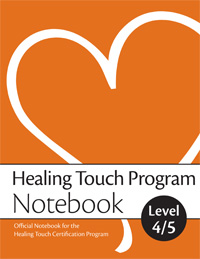 Level 4 teaches practitioner concepts for Healing Touch in a practice setting, business concepts, ethics and standards, documentation of sessions, case management, and integration of HT activities within the community. Self care, mentorship, two new techniques (Etheric Vitality/Full Body Connection), and preparation for course completion at Level 5 and certification are included in the curriculum. All students will partner with another student to experience and document a series of HT sessions as part of learning case management process.

You will learn:
How to further your Healing Touch practice and move toward Program Completion
Deepening your understanding of becoming and being a Practitioner
How to manage a case by doing a case study during class and learning through the experiences of others in your class
How to work through professional issues that may arise during your practice
The Full Body Connection – a technique that provides a full body balance and connection to help restore and relieve congestion in the physical and energetic field
Etheric Vitality Meditation – a powerful centering process for the practitioner as it opens the channel for connecting with the Universal Energy Flow.
In Addition You Will:
Do the work
Share experiences with others who have been practicing
Discuss how to create a professional profile notebook
Refine your documentation and interviewing skills
Receive guidance on preparation for Program
Understand the role of mentees and mentors and explore the process for choosing a mentor for the apprenticeship period between Level 4 and Level 5
Identify issues related to development of a Healing Touch practice, including Scope of Practice and Code of Ethics.
Preparation: Please know the correct terminology for all Healing Touch techniques and be able to demonstrate them. There will be time to have questions answered about techniques. Students will practice giving treatments independently. Reminder: Please avoid using scented products since some participants are allergic.
Please read the books that have been recommended for Levels 1, 2 & 3 before coming to Level 4. This includes: Healing Touch Guidebook, Practicing the Art and Science of Human Caring, by Dorothea Hover-Kramer, Joy's Way by Brugh Joy, Hands of Light and Light Emerging (Chapters 17 & 18), by Barbara Brennan. You can purchase these books through major bookstores, or by going to:
The Healing Touch Guidebook, Practicing the Art and Science of Human Caring, by Dorothea Hover-Kramer
Joy's Way
Light Emerging: The Journey of Personal Healing
Hands of Light: A Guide to Healing Through the Human Energy Field

Students are asked to fill out and bring the Level 4 Student Information Form with them to class. Click here to download the form: Level 4 Student Information.

Times: Level 4 normally starts on Thursday evening at approximately 2:00 and ends after 2:30 on Sunday. (Some classes start Wednesday and end on Saturday.) Please check your confirmation letter for specific class dates and check in times as times may vary slightly depending upon the location. Plan on attending all sessions in order to receive the Certificate of Completion for Level 4. Level 4 meets during the day as well as in the evenings with breaks lunch and dinner.

Retreat Setting: Levels 4 and 5 are held in a retreat setting to further enhance the interaction, learning and sharing between students, mentors and instructors. Students are required to stay at the retreat center. Exceptions may be made in extenuating circumstances, but must be pre-approved. Please email registration@HealingTouchProgram.com.

Room and Board: Room and Board prices vary depending upon the retreat center. Please call the HTP office at 210-497-5529 or check your confirmation letter for the cost. Payment for Room and Board is due two weeks before the beginning of the class.

Meals: Meals are provided by the retreat center unless otherwise stated. If you have special dietary needs, please notify classes@HealingTouchProgram.com.

Needs for the workshop: Bring items you might need for the healing exchanges you use in your practice.
Level 1, 2 and 3 Notebooks;

Healing Touch Guidebook, Practicing the Art and Science of Human Caring

(new by D. Hover) and a journal
If you own a massage table and can bring one, please call the HTP office 210-497-5529 and let them know that you will provide a table.
You may want to bring music, a stereo, extra pillows, and blankets as well. This pertains primarily to people that are driving to the workshop.
Paper and pen for taking notes.
Layered clothing is recommended as temperature will vary throughout the day and individuals have different sensitivities.

You may want to bring small articles that help you create a sacred space for the treatments that you will be giving. You may also bring an item that represents your healing work to place on a center table for holding energy during the class.
Continuing Education: 30 CE contact hours
Healing Touch Program is accredited as a provider of continuing nursing education by the American Nurses Credentialing Center's COA.
2017 Tuition for Level 4:
$569 Late Registration Tuition (two weeks before class start date)
$469 Regular Tuition
$444 HTPA/AHNA Member Discount
$444 Early Bird Discount (register for a class 2 months before the start date)
$316 Full Time Student/ Repeaters
There are additional costs for room and board
Click here for class schedule.
---
NOTE: Class Tuition Increase scheduled for January 1, 2018:
Level 4 and 5 2018 Tuition
Single Class Regular Tuition: $797

Single Class AHNA/HTPA Member Discounted 10%: $717

Level 4, 5 and certification Package $1697

Level 4, 5 and certification Package AHNA/HTPA Member Discounted 10% $1527
Tuition includes course notebook. It does not include travel, meals or lodging.
---
What our students say about Healing Touch Level 4 classes....
"The experience has helped me to feel I am able to consider a professional practice. Huge leap from Level 3 teaching. I feel energized and ready to move forward."
- Student, Nanaimo, British Columbia, Canada
"Nothing like I have ever experienced. I am so fortunate to have met all these wonderful people that I now have connections to."
– Student, Madison Wisconsin
"The whole experience was outstanding on all levels: from the teaching, receiving, experiential and especially the spiritual"
– Student, Hamptonville, North Carolina