Lisa Mentgen-Gordon
Chief Executive Officer
Lisa Mentgen-Gordon is the CEO of Healing Touch Program. Lisa believes that Healing Touch, founded by Lisa's mother, Janet Mentgen, is a magnificent and significant gift to the world, which makes it easy for her to spend most of her time expanding, enhancing, and spreading this program. Her love lies in helping others to spread the work of Healing Touch to all and is dedicated to awaken the idea of deliberate living, and to raise the vibration and quality of life worldwide through Healing Touch. Lisa has always been an entrepreneur at heart and started her first business when she was 7 years old trying to sell a wagon full of puzzle grass to anyone that was interested! Lisa began working with Janet in Healing Touch Program in 1993 and now as CEO continues to share her inner passion with everyone involved in helping to spread Healing Touch.
Lisa lives in San Antonio, Texas with her husband Chris and her three wonderful children Raymond, Nicole and Louis.
---

Cynthia HutchisonDNSc, RN, MSN, CNS, HTCP/I
Program Director
In the early 1980s, Cynthia began studying holistic healing, natural healing and energy therapies, with ten years of practicingTherapeutic Touch before discovering Healing Touch in 1992. She is an avid student of spirituality and energy medicine. A doctorally-prepared nurse from the Catholic University of America in Washington, D.C. (1987), Cynthia is also knowledgeable in the mainstream health sciences. Cynthia earned a master's degree as a clinical specialist in mental health nursing, and has maintained a private practice in Healing Touch for many years. In 1995, Cynthia initiated the research program for Healing Touch and became the first Director of Research, a position she maintained until 2000. She was invited by Janet Mentgen (founder of HT) in 2003 to serve as the Assistant Program Director. Cynthia became the Program Director in May of 2005 (several months before Janet's death), and was asked by Janet to carry on her legacy of the Healing Touch Program. Teaching internationally and nationally all levels of HTP curriculum, she brings much enthusiasm, empowerment and creativity to her classes. A mother of three Waldorf-educated grown daughters, Cynthia has lived in Boulder, Colorado since 1993.
---

Chris Gordon
Strategic Manager

Chris joined the Healing Touch Program team in 2008. Chris is the current Office Manager and is instrumental in handling special projects that propel Healing Touch to new visibility and acceptance. Chris was the lead principle in the recent NCCA Accreditation for Healing Touch Program. He is also responsible for office systems, policies and procedures. Chris comes from an electrical engineering background and brings his skill of project planning, implementation and technical procedural writing to our organization.
---

Margaret Nies
Project Manager
Margaret Nies joined Healing Touch Program in 2005 as the interim office manager in Denver. Since that time she has participated in the Healing Touch Program management team. Her skills and talents have been utilized in marketing, development of new programs, day to day office systems and strategic planning. She has a background in Cranial Sacral Therapy, business management, project management and product development. Margaret works long distance from her home in Grand Junction, Colorado. Her love of the outdoors and animals keeps her "out of the city" and on the move.
---
Sue Walker
Integrated Care Program Manager
Sue Walker has been part of the Healing Touch Program team since 2010. She currently manages the Integrative Care Program and also works on various projects. This innovative program provides a structured approach to assist healthcare facilities in implementing a Healing Touch program for patients and staff. Sue is passionate about increasing the use of Healing Touch in the healthcare setting. Sue has a former career in information technology, a degree in social work, and is a Healing Touch Certified Practitioner, Certified Instructor and Qualified Mentor.
---

Jennifer Lazik
HTP Class Manager
Jennifer has joined our amazing team at Healing Touch Program as the HTP Class Coordinator. She moved to San Antonio in 2008 from Leavenworth, Kansas and plans on calling it home after spending the last 20 years living all around the country. Jennifer is the mother of two daughters, shares her life with two exceptionally cool canines, an avid foodie who loves exploring the local farmers' markets, and when you cannot find her there she is often found at museums or places of rich history. Jennifer being a "Jack" (more accurately "Jane") of many trades and master of none, brings a myriad of skills she hopes to improve upon and grow through working at Healing Touch Program. She believes strongly in the power of each individual and how it can affect everyone, therefore each day is a new chance to improve oneself and let go of yesterday's shortcomings.
---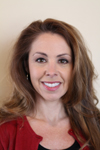 Ann Darmstetter
Certification Administrator, Insurance Administrator and HTPA Liaison

Ann became part of the Healing Touch Program team in February 2010. Ann is the Certification Administrator who is responsible for handling all the certification packets, assisting with the Certification Panel, and is in charge of all notifications that involve the certification process. She is also our Insurance Administrator, responsible for processing applications, issuing reminders and generating certificates of insurance. Ann is also in charge of HTPA membership. She can assist you in joining or renewing your membership or making changes to your account. She is responsible for the reminder letters and membership kits. Her background is in education and wellness. She has lived in San Antonio for 22 years and stays busy with her two children, Devyn and Dylan.
---

Erin Harris
EMPI Administrator
Erin is in charge of all things related to Energy Medicine Professional Insurance, as well as creating visual content for HTP and EMPI. He will be helping assist our Associate Member Organizations in providing their members with the highest possible amount of attention and assistance. Erin has lived in San Antonio for 2 years, having moved from Austin. Erin has been a professional musician for almost 10 years acting as lead singer for his band Sun Salutation and enjoys the expression it allows him. He strongly believes in the power to change the way healing is perceived in our culture, the power of positive energy, and the power that we all have to change our surroundings. The power we hold as a loving community can be the change we want to see in the world!
---

Billy Courtney
Graphic Artist
Billy joined the Healing Touch Program office staff when the office moved to San Antonio in 2009. Billy was on the original team that founded and developed Energy Magazine in 2006. Her background in graphic design allows her to create beauty in everything she touches. Billy is responsible for the HTP regional conference logos, design and layout of the HTP notebooks and other class room materials. Her touch is apparent on all of the HTP publications. ~ Billy believes that Healing Touch is changing the world!
---

Rachal Fries
Accounting
Rachal joined the Healing Touch Program team in 2012. She is responsible for the accounting at HTP; payroll, deposits, reconcilations and taxes. Rachal studied accounting at UTSA and loves number crunching. Rachal has lived in San Antonio for 38 years and loves spending lots of quality time with her husband, Jay and 4 kids, Garrett, Emilie, Jackson & Mitchell.
---